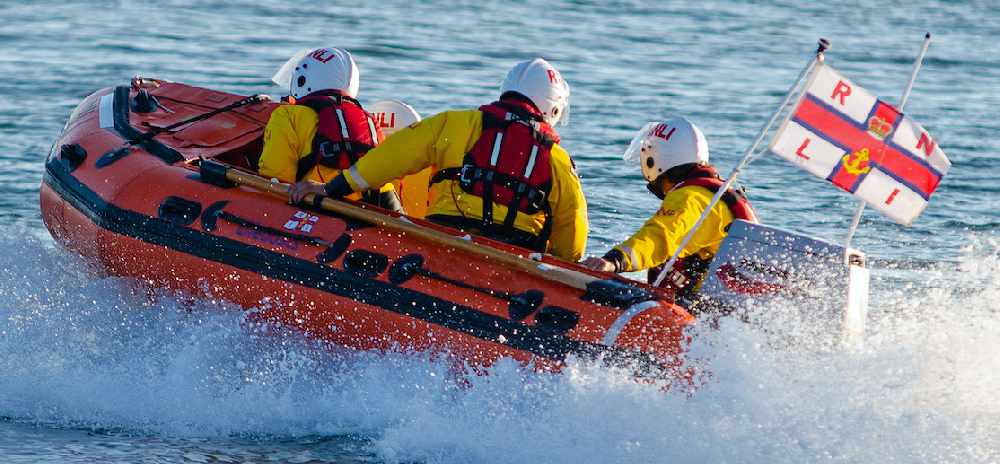 Exmouth inshore lifeboat (courtesy: Exmouth RNLI)
Lifeboat was out on exercise
An injured windsurfer off Exmouth has been rescued by the town's RNLU who came across them whilst out on exercise.
Exmouth's RNLI inshore lifeboat crew was on a pre-planned training session around 2 p.m. on Saturday when they saw the windsurfer struggling against the tide.
The lifeboat volunteers, manned by helm Harry Griffin and crew Mark Cockman and Dougie Wright, spotted the individual some distance off Exmouth lifeboat station. The coastguard assigned both the all-weather lifeboat and inshore vessel to a report of an unattended kiteboard found on the beach at Ladram Bay and potentially a person in difficulty in the sea.
The lifeboats were tasked with conducting a shoreline search from Ladram Bay to Jacobs Ladder, assisted by two coastguard rescue teams.
The All Weather Lifeboat was manned by lifesaving volunteer crew, Steve Hockings-Thompson, Scott Ranft, Roger Jackson, Chris Sims and Andrew Stott and the Inshore Lifeboat by Henry Mock, Sarah Beresford and James Edge.
Both lifeboats were stood down when it was established that the kiteboard had been on the beach, apparently abandoned, since yesterday.
More from Local News