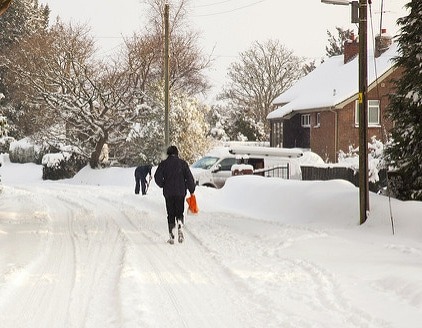 Volunteers prepared for weekend snowfalls
Devon's snow wardens are standing by to help out as temperatures are set to plummet on Saturday night with a risk of wintery showers over the moors and inland to the east of the county.
The scheme, run by volunteers under the guidance of the county council, grit priority roads and clear snow as part of their community's self-help plans.
Among the first snow wardens signed up at the start of the scheme ten years ago were at Dunkeswell, Rattery and Uplyme. They are all still going.
Uplyme snow warden Andrew Turner said: "In those past ten years we've ploughed around six times, but we've been out dozens of times to grit when it's icy on the roads. When we're needed we've got a very good team that goes out there and get things done. It's not just us locals working together, it's the parish working with Devon County as well; it makes life so much easier and works very well. We realise the County Council has limited resources and can't grit everywhere, so we can link up the minor roads to help people get onto the main roads."
Dunkeswell snow warden John Barrow said: "I believe in helping yourself a little bit, not sitting back and waiting for someone else to do everything. This is why I think it's a good scheme and why we joined in year one. The Beast from the East was the worst winter we've had since we've been in the scheme but there have been other odd little blips that have only lasted for a day. The benefit of having a bit of salt around can make it possible for people to keep moving."
Councillor Stuart Hughes, Devon County Council cabinet member for highway management and snow warden for Sidmouth and Sidford, said: "Towns and parishes have really taken ownership of this scheme and while they may not have been called into action every winter, it's helped communities to be better prepared, better equipped and more resilient against severe weather.
"With 8,000 miles of roads in the county, it is impossible for Devon County Council to treat our entire network of roads and footpaths, so the Snow Warden scheme has always been an additional resource on top of the winter service we provide. It's enabled us to support town and parish councils to provide self-help in their local communities and has basically extended our secondary salting network – making it easier for local people to reach their nearest main roads which are gritted by the County Council."
Devon County Council has 37 frontline gritters available to treat 2,000 miles of primary and secondary salting routes, covering around 25 per cent of the county's road network. Last winter, around 9,500 tonnes of salt were used on Devon's roads – treating around 75,000 miles of the county. That's below the average winter figure of around 13,000 tonnes of salt.
To find out more about the snow warden scheme go to https://new.devon.gov.uk/communities/opportunities/snow-warden-scheme
or contact parish council representatives who can liaise with their local neighbourhood highway officer.