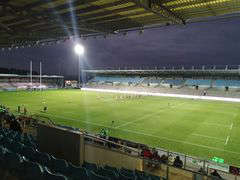 Sandy Park at night (courtesy : Alfie Richardson)
Commanding win over Worcester
Exeter Chiefs Women continued their winning streak convincingly against Worcester Warriors.
The final outcome was never really in doubt; Exeter dominated throughout. The team were a higher level of class when compared to lacklustre, error-strewn Warriors, who seemed unable to achieve simple things, such as kicking into touch.
When they met in September, the Chiefs also struggled with the easy bits, but are now playing like a team.
However, one player stood head and shoulders above the rest. Liv McGoverne led the way for the rest of the team. Her try was a nice one, racing over the line to finish a slick home attack, that she was heavily involved in. Her close-to-spotless conversion record and all-around commanding nature on the field really brings this team together – a very exciting player to watch.
Arguably the most spectacular try came from Clara Nielson just before half-time. A catch and drive of pure perfection – ending in a try for the highlight reel. Katie Buchanan also had a shout for the try of the match, with an excellent individual drive from half-way, the following conversion giving Exeter their fiftieth point.
Not all the tries were beauties though ; the Chiefs are experts at scrappy, close in tries, eventually being forced over the line. No-ones complaining though – especially when they score so many of them.
Overall, not a fun day out for the Warriors – both their tries were more than cancelled out after successful tries and conversions from Chiefs two minutes later, and really only served to reduce the deficit to 49. A dominating display from Exeter, the far superior team.
Final score: Exeter Chiefs 62 Worcester Warriors 18
Chiefs Starting 15 –
Doidge, Buchanan, Zackary, Cantorna, Woodman, McGoverne, Robinson, Turani, Nielson, Hanlon, Fryday, Leitch (C), Jefferies, Allen, Van Der Velden
Replacements –
Moloney, Muzambe, Jacoby, Fleming, Johnson, Bradley, Wilkins, Preece
Warriors Starting 15 –
Tremelling, Febrey, Long, John, Buckland-Hurry, McCarthy, Wright-Haley, Bricknell, Sellors, Nicholas, Laflin (C), A Kershaw, Cox, Wills, McNaney
Replacements –
Skeldon, Evans, Wells, O'Donnell, Shermer, J Kershaw, Moreira, Terry