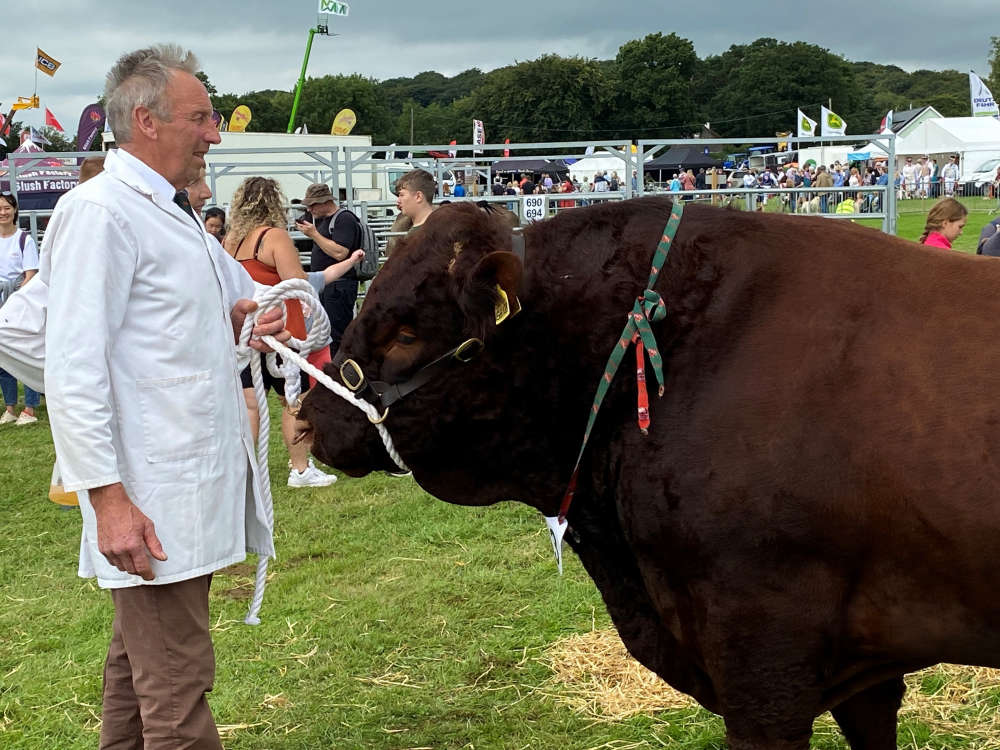 Farmers have a beef about getting a bashing (image: Alison Stephenson/LDRS)
Agri-sector could be key to net-zero
Farmers are taking a bashing from all sides but are key to a net-zero society, according to one West Devon councillor speaking at Thursday's Okehampton Show.
Cllr Caroline Mott (Con, Bridestowe), who runs a dairy farm on the edge of Dartmoor, said the popular one day show is a chance for farmers to showcase their animals and take pride in what they do at a time when they are really feeling the pressure.
"This is a brilliant one-day show, one of the biggest in the area, in a marvellous setting with views to Dartmoor. It's a chance to show what we do best in West Devon, which is grow livestock but also to network and socialise.
"Farming can be a very isolating job. It can be a very lonely job and at the moment it is a very stressful job.
"We feel a bit battered from all sides really with all the changes that are coming in with the farm payments. You could argue that's a good thing, we need to change things and how we do things – but equally we do come in for a bashing, we are being blamed for everything at the moment from global warming to pollution and everything else, when really we are a big part of the solution to greening up and being part of the net-zero that the government wants us to push for. We are not the bad guys in this at all."
Cllr Mott said West Devon Borough Council is doing its best as a council to support farmers and the rural communities to become net-zero and had grants available through Levelling Up funding for sustainable farming and the agri-tech sector.
With 1,200 sheep, 200 cattle, 60 pigs and horse entries up by 50 per cent, Okehampton Show organisers had predicted a great event, bringing thousands of families to the Stoney Park show ground. There was no charge to under 16s this year to make the event more affordable and entertainment all day in the main ring complemented the livestock showing and trade stands.
Cllr Kevin Ball (Con, Okehampton North) said: "Without doubt this is the best agricultural show in the county. Here you will find a whole array of different animals being judged and winning prizes, but also our local suppliers of equipment and consumables showing off their wares and there are many other attractions like the vintage tractors.
"It's just a wonderful day and one of the key events each year for the community and of course you can also get here by local transport, there is a local shuttle bus service and if you outside the town you can get the train."
Regular showgoer Cllr Anne Johnson (Ind, Tavistock South West) brought her whole family. "It's a great information-gathering day," she said. "I'm a farmer's daughter so I like to see the Ayrshire cows which we kept, various breeds of sheep and the pigs.
"It is lovely to see many people here exhibiting and taking great pride and pleasure in meeting up with people they know. It's a showcase for both rural and urban communities, easy to get to from the A30 and incredibly well organised. There are lots of happy people here today."