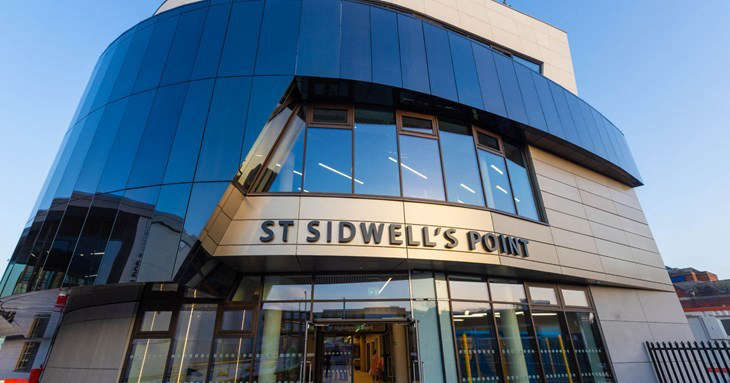 Exeter City Council's new leisure centre is an energy-efficient venue
Includes two new employees and 'carbon literacy' training
A million pounds will be spent by Exeter City Council over the next four years to help it and the city achieve net zero carbon by 2030.
Councillors this week agreed a new temporary budget to deliver net zero, of which £800,000 will go towards meeting the council's target for its own buildings, cars and other operations.
A further £200,000 will go to the separate and more ambitious city-wide 2030 goal. The money will come from reserves.
The council declared a climate emergency in 2019 and pledged to work towards creating a net zero city by the end of this decade. The target is 20 years in advance of the 2050 target set nationally.
Exeter currently produces just under half a million tonnes of carbon dioxide (equivalent) per year, a reduction of around a third since 2008.
But Karime Hassan, the council's chief executive, last month warned the city requires a "much greater reduction" in emissions to reach the target by 2030 and said significant private investment will be needed.
A report outlined a series of necessary steps for the whole city to become carbon neutral in eight years. It includes replacing all gas boilers with heat pumps, replacing all fossil fuel cars with electric ones, producing more renewable energy from extra solar panels, retrofitting homes, improving recycling rates and "massively" increasing cycling.
To highlight the scale of the task, only around 450 homes are thought to currently be powered by heat pumps in Exeter. The target for 2030 is 42,200 homes.
The report admitted meeting the city's overall 2030 goal would be "extremely challenging."
The £800,000 towards delivering net zero at Exeter City Council includes paying for a wide range of projects to reduce emissions, employing two new members of staff over four years and 'carbon literacy' training for employees.
The other £200,000 for the city-wide goal will pay for a 'carbon model' for Exeter with annual updates, specialist consultants, conferences and training, research and evaluation, technical studies and clerical support.
Members of the council's executive agreed the budget and were told that external funding would also be sought to increase activity and expand the team, which would enable the one-off budget to continue past four years.