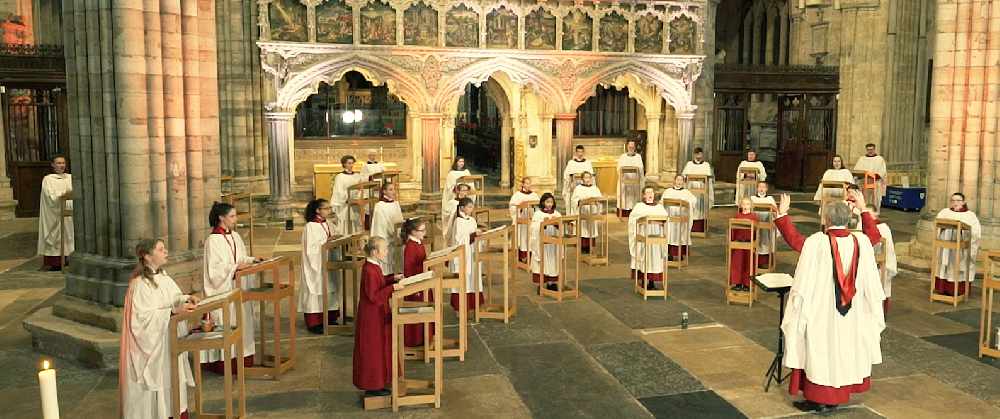 Who's the naughty one told to sing from behind the pillar?
And an online carol service today too
Your children may want chocolate in their advent calendars, but here's a way to put a scowl on their face. An advent calendar that belts out hymns, carols and Christmas songs.
Exeter Cathedral's filmed a musical advent calendar that it's revealing online day-by-day from 1 to 24 December.
True, you can still give them children chocolate for breakfast. But here's a way of lifting spirits too – by watching the Exeter Cathedral You Tube channel.
Musical director Timothy Noon says: "Following the disappointment of having to cancel the traditional Exeter Cathedral Christmas market this year, we wanted to do something special that would bring some festive, but safe, cheer to everyone as we count down to Christmas."
"We've included something for everyone in our Advent Calendar — from popular Christmas songs and carols to more traditional choral pieces — all beautifully sung by our young choristers, choral scholars and adult choir members, and accompanied by our organist, Timothy Parsons."
Also to be released online are the Cathedral Christmas Carol Service and the traditional Christmas Eve 'Grandisson' Service, named after Exeter's 14th century Bishop John de Grandisson and today, 29 November, the catherdral's advent carol service.
For choral scholar Alice Risdon, recording the services has also brought some much-needed festive cheer to the choir and musicians, who have been unable to sing together at the cathedral for much of the year due to covid safety measures.
"It's been a real joy during this second lockdown to be able to make music communally with both my colleagues and both groups of choristers. Walking into the nave on Thursday to see the Christmas trees lit up, donning my cassock and singing Christmas carols made life seem almost normal again!"
"For many of us Christmas won't be the same this year, but we hope that these recordings will bring a little of that festive spirit into people's homes — particularly for those who are unable to join us in person."
Looking beyond the current lockdown restrictions, Exeter Cathedral has also planned a full calendar of services with special covid-secure measures, that can be attended by physically distanced congregations inside the cathedral.