Army conducts controlled explosion
A suspected World War Two bomb unearthed near Exeter University has been blown up in a controlled explosion on Saturday evening.
Police earlier told people to be prepared: "A loud bang is expected when the device is detonated but there is no cause for alarm because the 400-metre cordon is deemed sufficient to ensure there are no health risks to anyone beyond its perimeter.
"However, people are urged to keep pets and small children indoors and police are strongly discouraging people from gathering outside, and people are reminded to adhere to covid-19 social distancing guidelines.
"Personnel from the Army's Royal Logistics Corps took over from Royal Navy bomb disposal experts this morning in preparation for the controlled detonation of the device, pictured. Both teams have been responsible for erecting a walled mitigation structure. This afternoon, trenches have also been created to prevent ground shock.
After the detonation, assessments will be conducted by various utility companies prior to residents returning. It is anticipated that the majority of residents will be able to return home this evening."
And the bomb did go bang – with plumes of smoke visible from many parts of the city.
The Royal Navy bomb squad were called in to work on the device since it was unearthed on Friday morning. Initially, residents within 100 metres of the location on Glenthorne Road, off Cowley Bridge Road, were evacuated at short notice. On Saturday morning, the exclusion zone was extended to a quarter of a mile (400 metre) radius, affecting around 2,600 properties.
Chief Inspector Steve Alexander, of Devon and Cornwall Police, said: "It's reasonable to expect this bang will be heard quite a distance across Exeter, and it will be important for people not to report it to us as an incident as we are aware of what it is."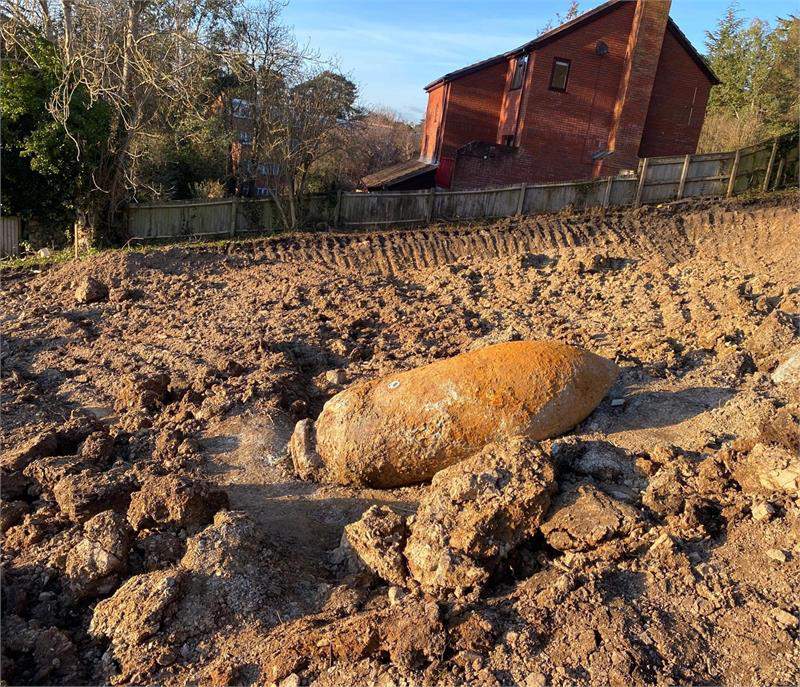 Police say about 1,400 Exeter University students were amongst those told to leave. The University of Exeter has been supporting students in its halls of residences in the relocation process, which has involved the use of hotels and vacant university residences. Students will return to their homes when the university has carried out safety checks on the properties following the conclusion of the incident.
Exeter University hasn't been able to confirm the number of students involved, because students are not back on campus under covid restrictions. However, many have stayed in their off-campus accommodation during the pandemic.
One student, Lucy, told the BBC she was in a hall just over 330 feet (100 metres) away from the scene when she and neighbours were told to leave at about 6 p.m. on Friday, given dinner and moved to hotels. She said: "I didn't think it was that big a deal until I realised how big it was and how people were taking it so seriously."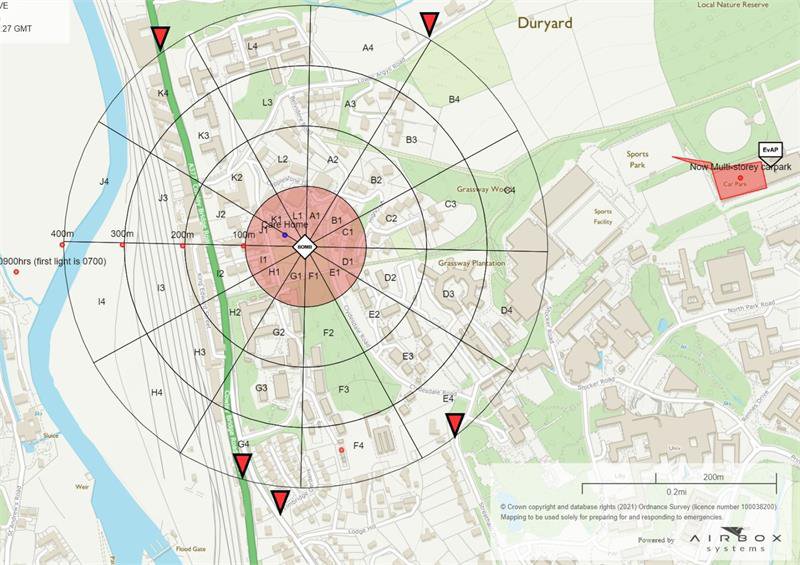 The quarter-mile exclusion zone around the bomb site (courtesy: Devon and Cornwall Police)
Devon County Council officials have been working with Exeter City Council and other partners to help people find alternative accommodation and support those at-risk or vulnerable. The majority of residents are staying with family or friends.
The bomb disposal team worked through the night "to establish a walled mitigation structure." The examination and detonation of the device has been passed to experts within the Army's Royal Logistics Corps.
Devon and Cornwall Police say after the detonation, assessments will be conducted by the various utility companies before people can be allowed back home, although it's expected they should be able to go back on Saturday night.
Superintendent Antony Hart, said: "This multi-agency operation is progressing well. We would like to thank all members of the public who have been affected by this incident, particularly residents who have been compliant in evacuating. We understand the disruption caused and appreciate everyone's patience."
Anyone who is still needs support can call the council on 0345 155 1015.
Images courtesy of the Ministry of Defence.