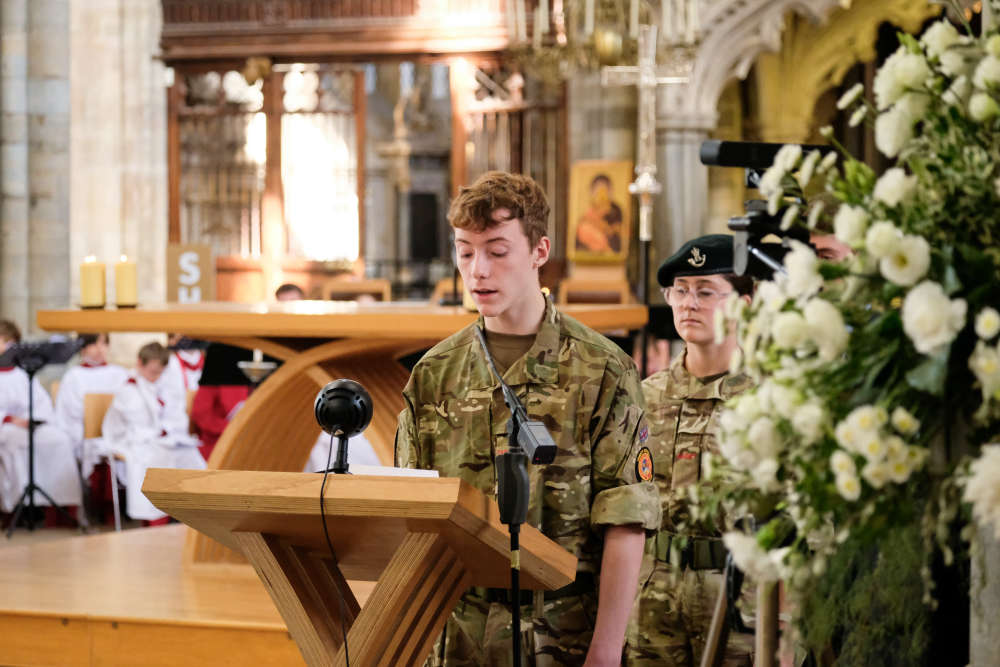 A cadet from Teignmouth School reads a prayer at Exeter Cathedral (image courtesy: Matt Prior)
Funeral screenings across county
Devon will join the nation in remembering Queen Elizabeth II as her funeral takes place in London.
The UK's longest-reigning monarch will be laid to rest in Windsor following the service at Westminster Abbey, the place she married and was crowned.
On Sunday, a service at Exeter Cathedral was attended by the king's representative in the county, lord lieutenant of Devon, David Fursden.
Cadets from Teignmouth School read prayers (pictured) during the service.
And the Bishop of Exeter, the Rt Rev'd Robert Atwell, shared his memories of Her Majesty. "The queen was someone whom everyone felt they knew," he said.
"She was local to everyone. She was a person of extraordinary stamina, unpretentious and surprisingly frugal. She hated obsequiousness and, in spite of the pomp and circumstance that surrounded her, disliked fuss."
Bishop Robert recounted one occasion when he was invited to stay at Sandringham for the weekend and the queen asked him to help her complete a jigsaw puzzle:"For the next 35 minutes, the Queen of England and I sat next to each other, chatting about this and that, trying to sort out the sky in the top right-hand corner of what turned out to be a fiendishly difficult jigsaw."
The queen's funeral will be screened publicly, and without charge, at locations throughout Devon.
In Exeter, Northernhay Gardens will have a large screen, on a first-come, first-served basis. Exeter City FC at St James Park and the Exeter Chiefs' conference centre at Sandy Park will have screenings.
In Plymouth, the Theatre Royal will be screening the occasion, with the help of a funding contribution from Plymouth City Council.