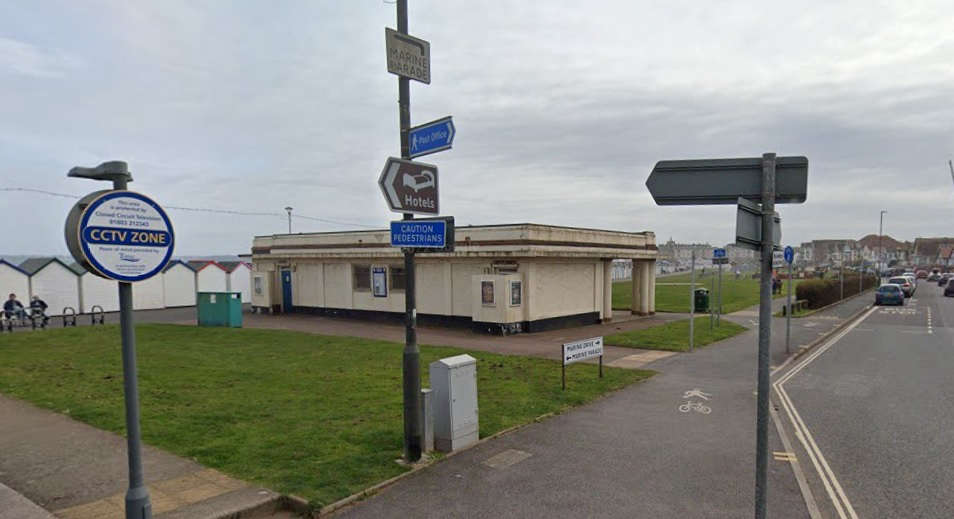 The toilet block at Preston (Google Street View)
Scrutiny board will take another look
Opposition members of Torbay Council have been accused of holding up moves to redevelop run-down toilet blocks at three seafront locations in the bay.
They insist there are key questions to answer on the proposals for the toilet blocks at Corbyn Head in Torquay and on Preston seafront, as well as the Old Toll House on Torquay's waterfront.
And they have used the council's 'calling in' procedure to force the overview and scrutiny board to take another look at the sell-off within the next couple of weeks.
Council deputy leader Chris Lewis (Con, Preston) said he was 'disappointed' at the move.
The new Conservative administration – voted in through the May elections – has decided to sell the three properties on the open market with a view to delivering new cafes and bars. The previous Liberal Democrat/Independent administration had already begun working with would-be operators, and says some of them had no idea their plans were no longer on the table until they read it in the local press.
The old coalition council would have built the new cafe/bars and leased them back to the operators.
"Two of the locations still had end-users who were expecting the council to proceed with them," said Cllr Swithin Long (Lib Dem, Barton with Watcombe).
The overview and scrutiny board can refer the matter to the cabinet or to the full council, or vote to take no further action.
Cllr Long said: "There are some practical questions that need answers, as well as some bigger ones.
"For instance, when did we tell the prospective end users that the buildings were going to be sold instead? Given that these projects would have brought an income for the council, it does seem a bit odd."
Cllr Long said members wanted to know if there were any guarantees that the new cafes would be built within a certain time in order to prevent them being 'banked' and left untouched by developers for years to come.
Cllr Lewis commented: "What is most disappointing is that once again the questions they are putting are just delaying tactics.
"It means we can't get on with it, which is what we want to do. Instead of working together on this, they are going to do all they can to block it.
"These are quite small developments compared to the decisions we are going to have to make on places such as the Pavilion and Oldway. If they are trying to block things at this early stage on small developments, it looks like we are in for a rocky ride.
"I thought we could all work together for the good of the bay, but apparently not."
Cllr Long said the Conservatives talked about 'delivering'. But, he added: "What is it exactly that they are delivering?
"Is simply selling these sites a delivery? In which case not much has been delivered."