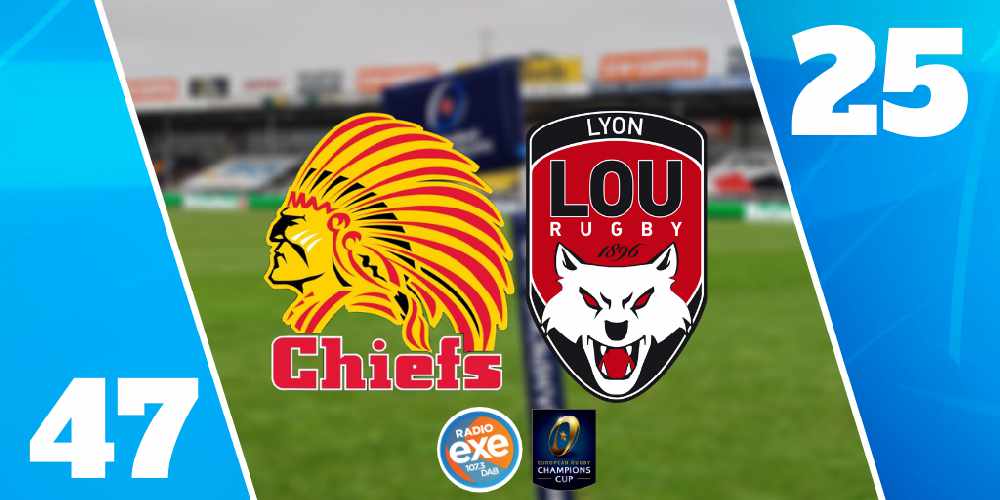 Reigning champions score seven tries to beat Lyon
Reigning European champions Exeter Chiefs defeat Lyon 47-25 in the last 16 of the Champions Cup to progress into the quarter-final.
Rob Baxter's side have now won their last eight games at Sandy Park – a club record for consecutive home wins in Europe – and they'll have the chance to extend that record next week when they host Leinster in the quarter-final.
Although buoyed by the return of their international stars, the double champions started the game firmly on the back foot against their French opponents.
Lyon struck twice Inside an action-packed opening 10 minutes, giving them a somewhat surprising 14-0 lead, despite one of their players leaving the field injured.
Exeter did, however, eventually find their stride as Jonny Hill scored two tries from close range, before Lyon added to the scoreboard with a penalty kick.
It took Exeter half an hour to take the lead for the first time in the contest – and It came courtesy of a moment of individual excellence from Olly Woodburn. The 29-year-old winger made a superb 30-yard break before offloading the ball to Tom O'Flaherty who scored in the corner.
The French visitors kicked another three points late on in the half – but Ollie Devoto's try under the posts gave Exeter a slender advantage at the break; they led 26-20 after a scintillating opening 40 minutes.
A fired-up Exeter side built on their lead 10 minutes into the second half. After continuous pressure on Lyon's try line, Dave Ewers eventually crashed over under the posts. Simmonds comfortably slotted the extras.
The reigning European champions started to run away with it on the hour mark. After more pressure on Lyon's 5 metre line, Chiefs were awarded a penalty try – which game them a convincing 20-point lead with 20 minutes to play.
Woodburn touched down five minutes before the final for Exeter's seventh try – but Lyon scored the final try of the encounter in the 80th minute – which only proved to be a consolation.
It finished: Exeter 47 Lyon 25